Why Copper?
The Plumber's Choice for a Reason
Naturally lead-free
Provides safe, clean drinking water connections
Anti-microbial
Zero dezincification
Non-porous
Compact, lightweight
Recyclable
NIBCO Wrot Copper Legacy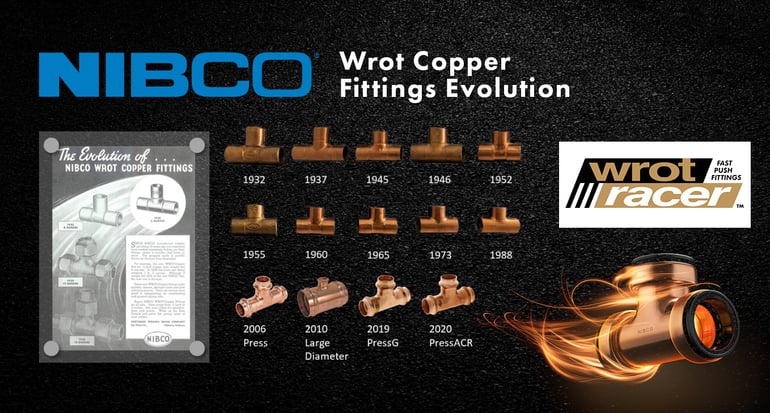 Until 1937, all copper fittings were cast, but that year NIBCO introduced the wrot copper fitting. Ross Martin introduced the solder joint for wrot copper fittings establishing NIBCO as an innovator, an industry leader, and a primary supplier to the residential construction market.
Fast forward to the 21st Century and the NIBCO wrot copper fitting evolution continues. NIBCO introduced small diameter Press in 2006 and large diameter Press in 2010 for potable and mechanical systems. In 2019, PressG for gas launched followed by PressACR in 2020.
NIBCO wrot copper fittings are proudly manufactured in Stuarts Draft, Virginia, the heart of the Shenandoah Valley. We use 99.9% pure copper that is globally sourced. This legacy of copper excellence is what differentiates today's evolutionary Wrot Racer Push fittings from all the rest!
NIBCO Legacy of Copper Excellence: Stuarts Draft, Virginia, Factory